Drunken Baby
Baby Drunk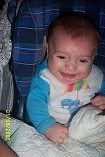 "I am pissed godamnit! NOTHING NOTHING NOTHING WILL CALM ME! I SAID NOTHING! DAMN ALL OF YOU! ALL OF YOU!"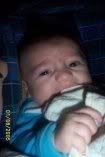 "Gimme this thing! Its so soft and stuff! ALL I HAVE IS THIS THING TO STUFF IN MY MOUTH. I AM STILL UNHAPPY! SEE! SEE MY EYEBROWS? THEY LOOK LIKE MY MOTHER'S WHEN SHE IS PISSY!"
"SEE!?"

"Wait...hmm... grrr...geegum...umpha.... this thing isn't too bad... kinda helps the gums a little. In a blanket sort of way... ya know?"

"I actually feel kinda better now. I feel like me again! Hmm... not bad. Much better than feeling like my diaper is in a bunch..."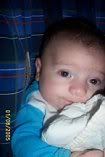 "I think I am gonna keep sucking on this thing. It's kinda like what mommy says is 'beer'? I think so!"

"Look! Now I am doing an impression of Fonzie! 'Ayyyy! Exactamundo!' Heee Heeee! Giggle Tee hee!"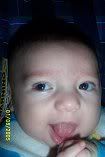 "Yea, it's beer. Baby Beer. Baby blanket beer. Hee hee. I feel silly. I don't feel mean anymore. I feel ... I feel like making a Bill Cosby face... mmm Jello Pudding ...hee hee! I am what mommy says is drunk. Weeeeeeeeeeeeee!"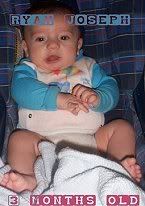 Happy Three Months Birthday Munson Baby Boy! Mommy is 2 days late, but you will learn all about that in time.