St. Shaggy of Scooby
St. Shaggy of Scooby
My children have a bad habit of peeling paint.
It's something that irritates me beyond belief.
While cleaning the other day, I realized that they had peeled the paint off of the area on my bedroom door, that once was a small little nick.
As I stared at it, it looked familiar.
What was that?
Better yet, WHO was that?
I saw this...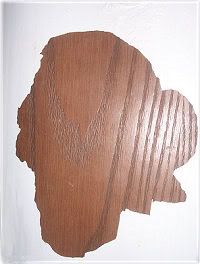 And my God, it was the image of Shaggy from Scooby Doo.
St. Shaggy of Scooby I call him.
I even made up a prayer I say to him at night, after laying flowers in front of him and blessed Santo candles:
Oh, St. Shaggy of Scooby
Bring to me the holiest of mysteries.
Help me to understand your hair on
your chin.
And bring the lord baby Jesus, within.
Amen.
Should I let people come and see the St. Shag? Should I call the local networks and tell them I have the holiest of mysteries on my bedroom door? Should I remove the door and put it on Ebay?
I'm going to hell, ain't I?